In this week's column, I concentrate almost exclusively on the novice chasers to coincide with the publication of the Cheltenham Festival's four events confined to those horses.
Those lists of names contain at least three notable omissions, detailed below, while some arresting match-ups on the track during the past week also provided plenty of excitement - even if the purported main event proved a damp squib.
THE NOVICE CHASERS
The putative race of the week lasted for less than 35 seconds – or as long as it took Asterion Forlonge to get to the first fence at Punchestown last Sunday. The grey set out keenly in the hands of substitute jockey Danny Mullins and, despite being unchallenged on the lead, applied the brakes, failed to get high enough and landed too steeply to maintain his balance.
That's the second time in as many starts that this horse has hit the deck. He also wasn't under any explicit pressure when failing to get high enough at the fifth last in Limerick's Faugheen Novice Chase either – a mistake that came out of nowhere, no clue provided at the earlier fences. He chose not to jump a single obstacle when loose at Punchestown – no pack instinct for him.
Ruby Walsh has twice stated on the Road To Cheltenham show that accompanies this column that he felt Asterion Forlonge should have at least tried to find a leg at Limerick. A "novicey" fall, he categorised it.
For me, this horse's nascent chasing career now firmly moves to the file marked 'problematic'. With his marked necessity for a right-handed track, he was already a niche competitor. I fear it's now more likely than not that he won't cut it at the highest level.
Of course, trainer Willie Mullins won't be writing him off and took solace from the fact the fall came so early, perhaps enabling him "to run him back quick – I'll try to find a race for him somewhere". He even suggested left-handed Leopardstown. If he means either of the novices' Grade Ones at the Dublin Racing Festival, for which the horse is entered, that would make little appeal.
Asterion Forlonge's departure took Sempo out, leaving that rival with no room to land safely and causing him to jink his rider out of the saddle. More pertinently, it left 1-2 favourite Envoi Allen to brush aside two inferior rivals in a race that immediately became steadily run once he was left in the lead and developed into a sprint from the back of the second last.
Runner-up Fils D'Oudairies – winner of a Navan novice chase in December, not an utter pushover, and since entered in both the Marsh and Festival Novices' Chases – tried to stick with him and even crafted the outside chance of a shock by flying the last. But after popping that final obstacle more sedately, Envoi Allen readily surged away again.
Far from the advertised thrilling clash, this was instead a highly competent display that brought the winner's unbeaten record to ten races under Rules.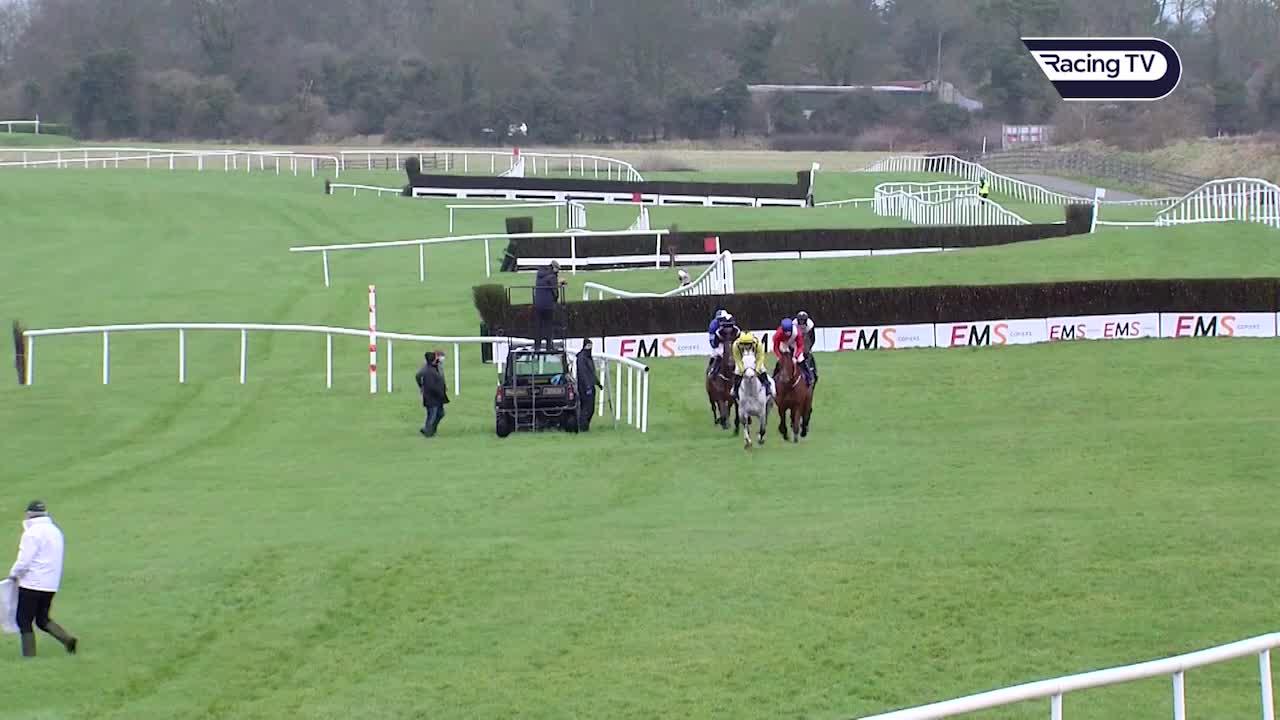 Watch the race again in full as Envoi Allen extends his unbeaten record
Jack Kennedy tried to inject some retrospective drama when maintaining "my heart was in my mouth a couple of times" due to Asterion Forlonge and Sempo running loose around him. While it's hard to imagine the languid rider's heart registering higher than 30 bpm for long, even at exercise, his mount was certainly a model of professionalism and concentration.
"He's so honest," Kennedy drawled in his Racing TV interview with Gary O'Brien afterwards. "They crossed over me at one of the fences down the back but he never took his eye off the fence."
He admitted that "it would have been nice to get a lead around [from Asterion Forlonge] and get a proper race of it", but praised Envoi Allen's tactical versatility. Although he would prefer not to, he can make his own running.
More striking were Kennedy's comments to Gordon Elliott, later relayed via the trainer's own interview with O'Brien. "Jack actually said today we'll have to up his work a little bit before Cheltenham," Elliott said. "I'd say he does everything so easy at home, there's plenty of improvement in him."
That fits in with Elliott's pre-race comments – which at the time had appeared designed to take the pressure off himself and Kennedy – that Envoi Allen could run well in this Grade Three event, conceding 11lb to Asterion Forlonge, and yet still get beaten because the Festival in March is his paramount target.
"He's in all the races in Leopardstown," Elliott stated, referring to the Irish Arkle and Flogas Novice Chases at the Dublin Racing Festival. "For fear something happened with the Irish horses going to Cheltenham, but the plan is going straight to Cheltenham, all being well."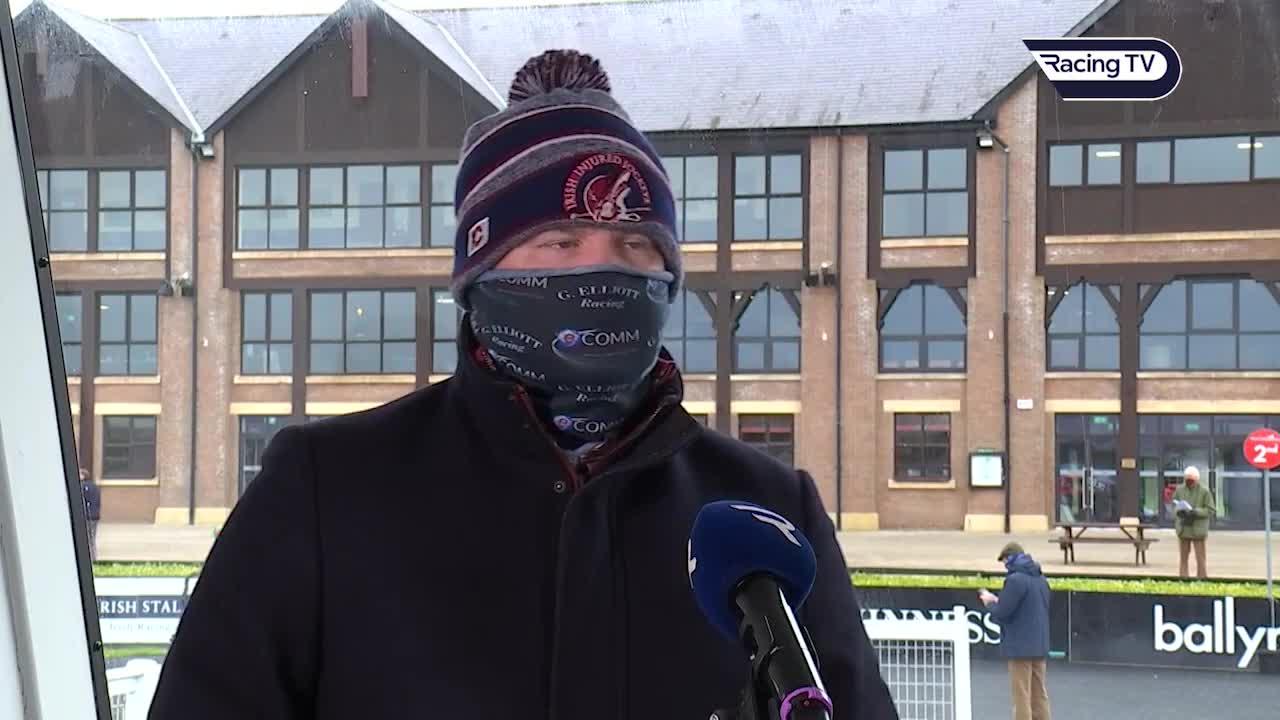 Gordon Elliott reflected upon Envoi Allen's victory with Gary O'Brien
He's seeking to replicate the rhythm of last season, which saw Envoi Allen win a Grade One novice hurdle in early January and then pitch up for an authoritative Ballymore triumph as his next assignment. "We just said we'd go the same sort of route as last year," Elliot said. "Look, we think he's very good. He's a horse we want to make last, so we'll pick our path."
He's best-priced at Evens for the Marsh Novices' Chase – victory in which would make it three successive Festival triumphs – and those seeking to pick holes in that price can justifiably argue that his chase form to date is small-field, steady-paced stuff that lacks substance. But his Ballymore success, in a strongly-run event, informed us of his quality and his chasing technique has since impressed. Whilst his odds are prohibitive, I wouldn't fancy laying him either. He might well force those seeking to bet in this race to find a more creative angle nearer the time.
Even though Punchestown's much-anticipated match-up failed to electrify, there were two other novice-chasing events that stepped up to the mark in the past week. The first took place over two miles at Naas on Wednesday, rescheduled from the preceding Sunday's abandoned fixture, and the second – which I discuss much further down in this section – was at Warwick over three miles last Saturday.
At Naas, Energumene set out determinedly, bounding into a clear lead of a couple of lengths by the first fence, but he didn't then engage cruise control. He kept the pedal to the metal.
Carrying 5lb more than the succeeding handicap chase over the same course and distance – won by fellow novice, Epson Du Houx, whom trainer Henry de Bromhead has deemed good enough to enter in the Arkle (albeit the Grand Annual would appear more realistic) – he clocked an overall time more than eight seconds faster with sectionals showing that he injected the most pace prior to the second last.
We highlighted Energumene back in episode 2 of the Road To Cheltenham show, when his beginners' chase success at Gowran blew away – in sectional terms – both Annamix's preceding victory and Hostage To Fortune's subsequent one. On that occasion, too, he scorched his opponents early on and then unflinchingly maintained that gallop to the line.
At Naas, he faced his most substantial rivals yet on paper – and one of them turned up in spirit as well as physical form. That rival was Captain Guinness, who is now cutting a less headlong dash than in his novice-hurdling days but looks a shade less exciting perhaps as a result.
He was brought down, still going strongly, at the penultimate flight in last term's Supreme after going too hard early, but pulled up with a heart problem on his chase debut at Tipperary in October. He was back in the room with victory at Punchestown last month and there's no reason to believe he didn't produce a broadly similar performance in defeat here. It's just that Energumene was eight-and-a-half lengths superior.
The winner's jumping was slicker, albeit he again displayed a tendency to adjust to his right. He was particularly good at the fifth and second last whereas Captain Guinness made errors at the second and sixth. The latter fashioned half a chance with a good leap three out, where Energumene had just got in a shade too close, and the pair stretched clear of the other two participants, but Captain Guinness could never quite get on terms and a scrappy jump at the second last sealed matters.
Back in third, 28 lengths adrift of his triumphant stable companion, was Blackbow. It was clear from the outset that rider David Mullins, who announced his retirement on Wednesday night, planned to sit a good way off the leader, later explaining to the inquiring stewards that "he was instructed to line up at the rear, as the other three runners were known front-runners and furthermore his mount had taken a heavy fall the previous day at Leopardstown".
The stewards' report continued: "[David Mullins] was mindful that his mount raced very keen and his past record over hurdles suggested that he was a beaten favourite on four occasions when ridden handy with the pace. He analysed the video in the presence of the Stewards and displayed that his mount ran very keen into the straight on the first circuit until settling and later in the race he began to hang left onto the previously used ground.
"He described the race as being a truly run race, with the first and second placed horses being very good horses. He felt that his own mount was not good enough from five fences out and had got close to the fourth last fence."
Willie Mullins confirmed these instructions and added that "he wanted the horse to get a clear round". The Irish Horseracing Regulatory Board's veterinary officer initially declared Blackbow post-race normal but on a subsequent examination found him to be stiff on his right foreleg.
Let's talk turkey about Blackbow: he's a surrender monkey. If Asterion Forlonge could have found a leg at Limerick, Blackbow should have found four at Leopardstown over Christmas. Instead, he threw himself gratefully to the ground at the third in the Grade One Racing Post Chase, eventually won by stablemate Franco De Port.
There must be an underlying physical and/or mental problem with Blackbow, as he's been inclined to hang left throughout on both his last two starts. At Naas, he fought David Mullins' restraint – anchored well in rear – and made a series of guessy mistakes, but the pace at which that event was conducted should have enabled him to creep closer in the straight. Instead, he found zilch. These were defensive tactics on a horse unable to put up any sort of fight. In punting terms, you should forget about him.
Nonetheless, he was one of six horses whom Mullins has entered in the Arkle at the Cheltenham Festival – along with Energumene, Franco De Port, Janidil, Klassical Dream and Unexcepted. Those last two names are significant. Unexcepted was last seen registering a wide-margin chase debut success at Tipperary in October – the race in which Captain Guinness pulled up – but holds an Irish Arkle entry.
That's more than can be said for 2019 Supreme hero Klassical Dream, who's not entered in either next month's Dublin Racing Festival nor even in the Unibet Champion Hurdle. Having been withdrawn from a beginners' chase at Leopardstown over Christmas due to his latest bout of lameness, it seems his best-case scenario would be emulating Well Chief or (more improbably) Western Warhorse by winning the Arkle via a single novice-chase start.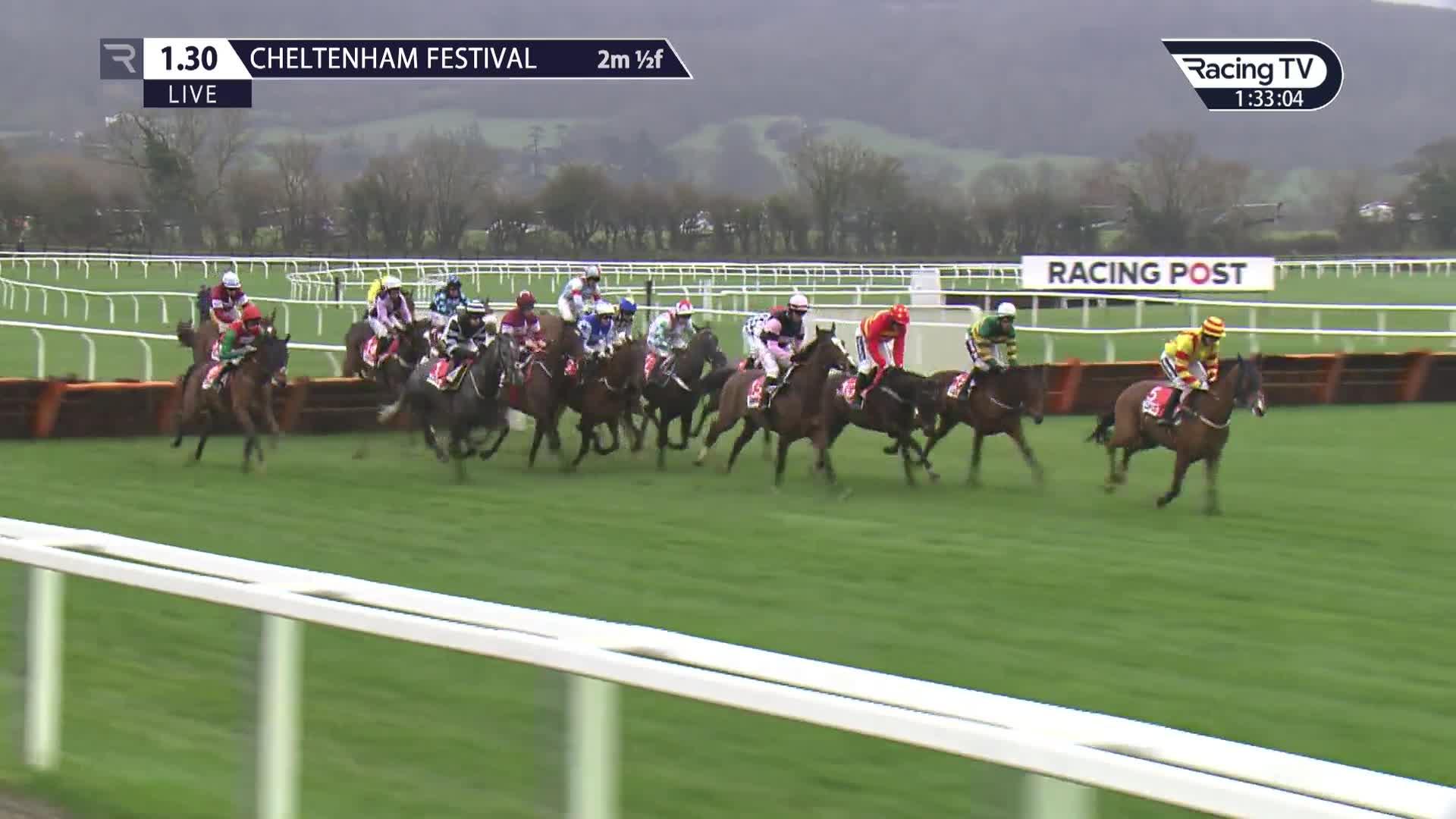 Remember this? Klassical Dream wins the 2019 Sky Bet Supreme
Janidil made a catalogue of errors when coming home third behind his stablemate, the mare Colreevy, in the Limerick Grade One in which Asterion Forlonge fell. He was also poorly positioned, far from error-free and finished with his stamina for three miles unproven when fifth in last season's Albert Bartlett Novices' Hurdle. Both he and Colreevy, plus Klassical Dream and Blackbow, feature among the nine Mullins has entered in the Marsh.
The other five are Asterion Forlonge, Energumene, Franco De Port, Lord Royal and Monkfish. All bar Franco De Port of that quintet are also engaged in the Festival Novices' Chase (formerly the RSA) over an extended three miles. Asterion Forlonge and Lord Royal have additional entries in the 3m 6f National Hunt Chase.
As outlined above, I can't have Asterion Forlonge over fences at all this season, let alone at a longer course of obstacles over which he can lurch right – for as long as he stays upright – at Cheltenham. He's far too keen to stay an extended trip, too.
Lord Royal had the sectionalistas purring after his 33-length Clonmel maiden hurdle success last January, but took a plunging fall on chase debut at Thurles in November and has since been tailed off over fences at Naas last month. The weird bit is him not being entered in the Paddy Power Stayers' Hurdle – but he is engaged in a Navan beginners' chase on Saturday. That's no Festival chase profile, however, whatever the trip. He's starting to look like a one-hit wonder.
The reason I've run through all of Mullins' Festival novice-chase entries is to work out where the ones that should concern us are likely to be running.
Monkfish is clearly and rightly the stable's number one for the Race Formerly Known As The RSA. Colreevy might yet have the option of the Festival's brand new Grade Two Mrs Paddy Power Mares' Chase, but her trainer tends to keep novices against novices, has a valuable alternative at Limerick at the same time in March and should have Benie Des Dieux for that Festival project.
That means that unless Unexcepted steps up next month, Mullins will be predominantly choosing between Energumene and Franco De Port to contest the Arkle and the Marsh – clean run at the Festival permitting.
It's a widely-received view that Energumene will take on Shishkin in the Arkle and Franco De Port will be stepping up in trip for the Marsh, after the latter's powerful finish when winning a too-forcefully run edition of the Grade One Racing Post Novice Chase at Leopardstown over Christmas.
However, never at any stage was Franco De Port outpaced. Rather, Bryan Cooper was content to drop out as Felix Desjy hared off, only to be overtaken at the sixth by Benrubin and then Darver Star a fence later whilst the winner continued to bide his time. It was only at the last that Franco De Port was produced upsides Darver Star and stayed on for a four-and-a-half-length victory.
Given that the fast and furious Allmankind and Gumball will be lining up in the Arkle – they hold no alternative engagement – this Cheltenham Festival event looks sure to be conducted at an end-to-end gallop. Given he refused to settle in last year's Coral Cup, might Franco De Port actually be better placed in this shorter event than in the Marsh?
On the flip side, however, the Mullins team might reflect that Energumene has so far only encountered testing ground and this, combined with his habit of adjusting right, could count against him in the typically slicker conditions of an Arkle on the tighter, turning Old Course. Might he be better suited to the Marsh, on the more galloping New Course? His Gowran success demonstrated that he stays 2m4f well.
Of course, that option would propel him in the direction of Envoi Allen, but there should be no easy choices at the Cheltenham Festival and Shishkin – given his Desert Orchod success that eclipsed that of Champion Chase candidate Nube Negra according to the clock – boasts the more substantial chasing profile.
If I'm discussing Franco De Port, I must also mention Darver Star. Given how the Racing Post Novice Chase panned out, he performed far better than his literal four-and-a-half length defeat – getting involved in the unsustainable pace far too early and yet taking until after the last to be quelled.
This horse was good enough to finish second in the Irish Champion Hurdle and third in the Champion Hurdle as a novice last season – admittedly a highly-experienced one – and had clearly benefitted from an operation to augment his breathing at Leopardstown.
He's just too good a horse to be languishing at 33-1 in the Arkle betting, particularly if Jonathan Moore rides him with greater restraint. As he's also entered in the Marsh, over a trip he has tackled earlier in his career, I'm recommending an interest each-way at 25-1 non-runner no-bet for the shorter event.
Another potential player in this division emerged over the weekend in the unlikely shape of Sky Pirate. He'd built a reputation for weak finishing but there has been none of that since trainer Jonjo O'Neill dropped him to the minimum trip the last twice – having previously campaigned him over further, including when seventh in the Festival's 2019 Kim Muir over further than three and a quarter miles.
Having been brought home on the bridle at Cheltenham (beating Champion Chase and Ryanair entry Ibleo by just under four lengths in receipts of 3lb), Sky Pirate readily won a handicap at Warwick last Saturday from an 11lb higher mark. Despite this being his third season over fences, he is still a novice – albeit some form of handicap would appear to remain a more viable option for him, even if the likely strongly run Arkle would be right up his street.
Chatham Street Lad, beaten in handicap company over 2m1f at Fairyhouse last Saturday, holds three novice-chasing entries at Cheltenham – the Arkle, Marsh and Festival – to go with his Champion Chase and Ryanair engagements. Trainer Michael Winters has also made inquiries into the closing dates for the Olympics and the Eurovision Song contest.
His post-race comments suggested that he's leaning towards a sixth Festival option, however – the Brown Advisory & Merribelle Stable Plate over the course and distance on which he stormed away with the Caspian Caviar Gold Cup by 15 lengths last month.
"We're still heading to Cheltenham – we're not too much taken aback," said Winters. "He never got into a rhythm – the pace wasn't right for him. I imagine we'll be going for a handicap there, to be realistic. We'll be making our mind up about what distance. From what he did at Cheltenham last time, we'll be going back to that kind of trip. I'd imagine that's where we'll be looking.
"He'll probably get a freshen-up, and we'll have him checked out from head to toe to see that everything is right... He's OK – but I don't think the race went that well for him, with the pace and other little issues. He jumped a bit to the left, so we'll have that checked out as well and make sure he's 100 per cent... We're going to freshen him up, check his vaccinations and give him a three-week break and we'll be rolling on."
Only Royal Pagaille thus far rivals Chatham Street Lad for Festival options after he, too, was handed a trio of novice-chasing possibilities – the Marsh, Festival and NH Chase – to go with his Ryanair and Gold Cup engagements.
It's also worth noting three other horses whom Ruby Walsh and I discussed in the context of the NH Chase – Dickie Diver, who's also been entered in the Festival Chase and lacks the experience of a typical winner of the longer-distance affair, Welsh Grand National hero Secret Reprieve, who's also entered in both, and Court Maid, who boasts exactly that profile but has bafflingly only been entered in the Festival and not the NH Chase.
Also worth noting is Port Of Mars, who thumped Milanford – both entered in the NH Chase, the latter also in the Festival – by ten lengths when upped to 3m1f in a good race of its type at Hereford a last week. The winner is owned by Noel and Valerie Moran, but trainer Olly Murphy warned he'd need the ground "on the soft side" to consider Cheltenham.
Which brings me back to that other novice-chasing performance of note from the last week – Next Destination's length-and-a-half triumph over Fiddlerontheroof and Golan Fortune at Warwick. He's been entered in both the Festival and NH Chases but Harry Derham, Paul Nicholls' assistant trainer, was clearly inclined towards the former target in his post-race interview below.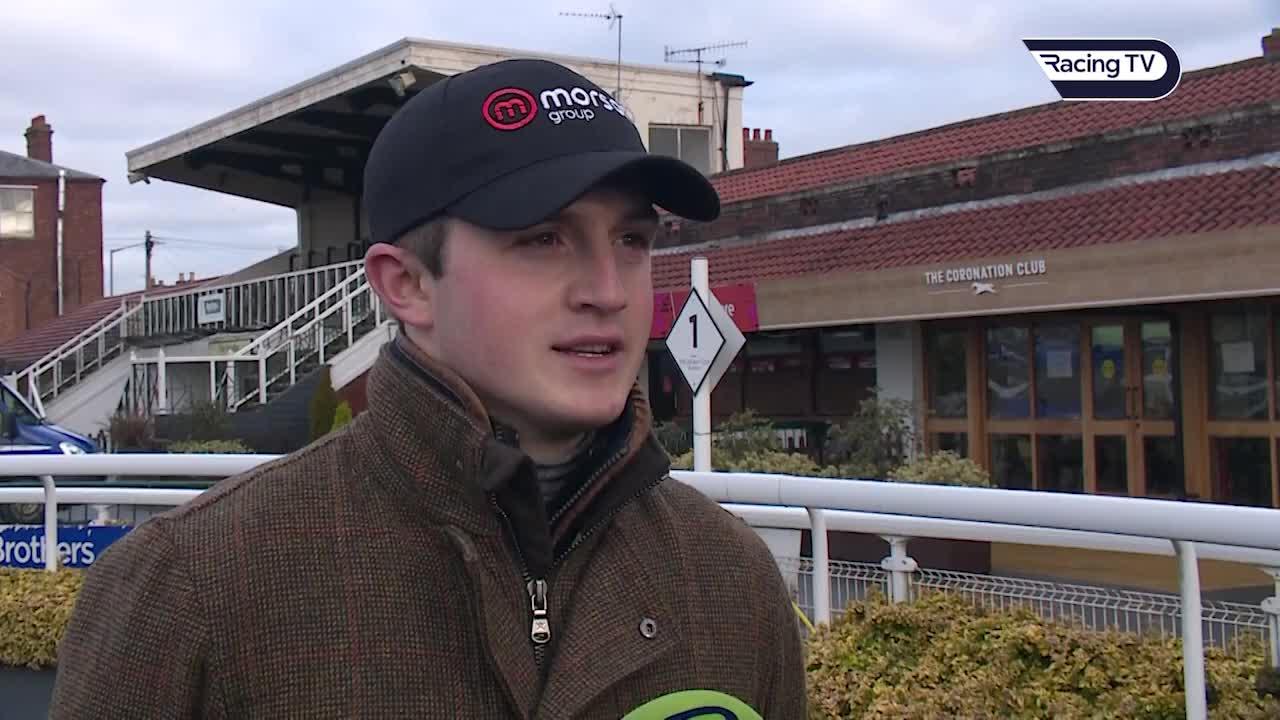 Next Destination's jumping kept him in the game in the back straight second time around, where Warwick has a run of five quickfire fences and Golan Fortune was trying to turn the screw from the front. The eventual winner was slightly outpaced, but pulled out a belting leap five out and another when asked three out, enabling him to capitalise on the leader's error at the latter.
Jonjo O'Neill Jnr had been watching on from rear on Fiddlerontheroof and tried to take Golan Fortune's rail slot as a result, but Harry Cobden had track position on Next Destination, whom he wisely angled onto the rail and thus closed the door on that rival.
As a result, and with the game Golan Fortune rallying on their outside, O'Neill ended up having to switch around the other two to deliver his challenge in the straight – his mount's rhythm mildly interrupted and his pitch shuffled back. It didn't make the difference between victory and defeat as Fiddlerontheroof was produced upsides Next Destination at the last but then couldn't match him to the line. However, it did mark the winner out as a doughty and viable Festival Chase candidate.
However, I prefer Pencilfulloflead for that contest and the latest set of entries have confirmed that Gordon Elliott has entered him for that target – as well as the NH Chase (for which I wouldn't fancy him and for which the yard already has Galvin.)
As I mentioned when reviewing his defeat by the speedier mare Colreevy at Limerick over Christmas, I really liked both his jumping and his resolution over that inadequate trip and feel now is the time to get involved with an each-way bet at 16-1 non-runner, no-bet.. Clearly, Monkfish is a serious rival in this division but he's not as far ahead of his opposition as odds of about 7-4 would suggest.
He beat Latest Exhibition – who, by the way, is entered in every Festival novice-chasing event bar the Arkle – by three lengths over Christmas whereas there were seven comfortable lengths between that horse and my selection previously at Punchestown.
I'm not suggesting this collateral form should be interpreted literally – Latest Exhibition is better left-handed and therefore was much more like himself against Monkfish, plus trainer Paul Nolan blamed the heavy ground – but it does indicate a certain depth among the three-milers.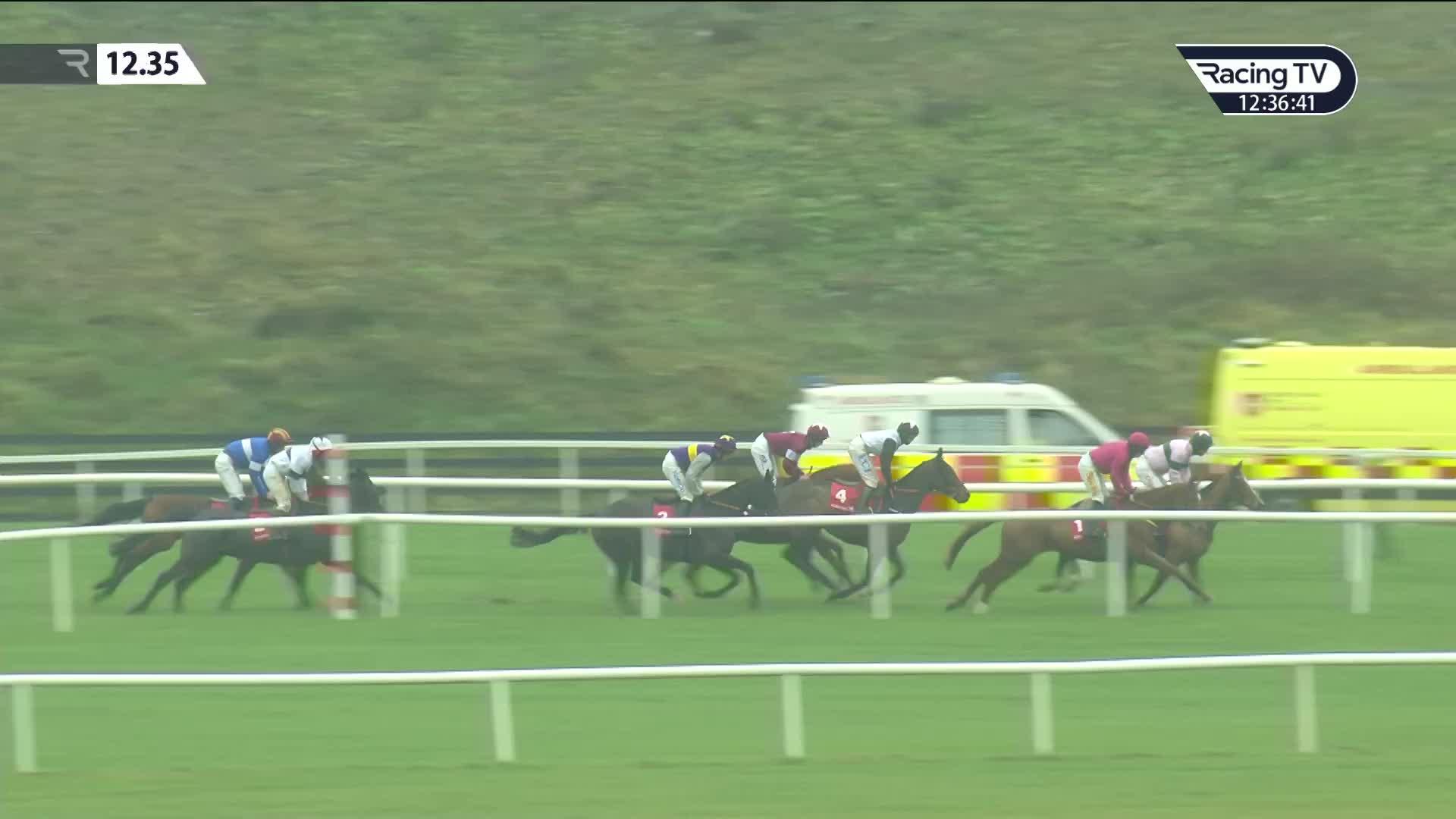 Pencilfulloflead wins at Punchestown in November - watch the full replay
One last performance to note in the past week came from Dame De Compagnie, who made a winning chase debut in a two-mile match at Ayr earlier this week. Although her sole rival, Cornerstone Lad, was making his second appearance over the larger obstacles and had contested the Champion Hurdle last season, she was able to largely match his jumping and then outspeed him.
Nico de Boinville had a tight hold of the winner's head in the early stages when her jumping lacked fluency – particularly at the fourth, where she was asked to jump it on one stride and she added a coda. She got better as she went on and there was a sense of inevitability that she would reel in her rival at her leisure in the straight, even though she hung and ran down the fourth- and third- last markedly to the left.
Afterwards, trainer Nicky Henderson asserted that two-and-a-half miles is her ideal trip but was not keen to take on either Envoi Allen in the Marsh or more experienced mares in the Grade Two Mrs Paddy Power Chase. "That's not really for novices," he said. "After just one run, that would be asking a lot... We'll have to do some thinking [about her next target]."
Finally, it should be noted that neither of the Mullins-trained pair Elixir D'Ainay – not sighted since being pretty much knocked over by Asterion Forlonge in last year's Supreme – and The Big Getaway, wide-margin winner of a Leopardstown beginners' chase last month, are entered in any of the Cheltenham Festival's novice chases.
Also absent from any such engagement is recent Dipper Chase winner Messire Des Obeaux – a nine-year-old who has only made it to the track three times in the past four seasons due to tendon issues. It was only earlier this month that he downed Protektorat at Wincanton, the latter shaping like a longer trip at a left-handed track was required.
Happily, Messire Des Obeaux's absence from any Cheltenham assignment was a campaign decision rather than anything more worrying. "I find that those horses who've had a leg injury, like he has, don't want to go up and down hills and always be on the turn, as you have to at Cheltenham," said trainer Alan King. "Daryl Jacob actually said the same thing to me, unprompted. So, it'll be one race at a time but the plan has always been the Scilly Isles - although it seems everyone is going there - and then Aintree."
Aramax, last term's Boodles Fred Winter victor whom Ruby Walsh and I noted last week was not entered in the Unibet Champion Hurdle, bounced back to form at Fairyhouse last Saturday. Fitted with a first-time tongue-tie, he jumped much better than on his two previous abject starts over fences and is another potential candidate for the Grand Annual and Aintree's Red Rum Chase.
THE NOVICE HURDLERS
Despite trainer Ronan McNally giving a string of reasons why he wouldn't have been at his best, Dreal Deal won the Grade Two Moscow Flyer Novice Hurdle by three extending lengths. Having got to know him here at Punchestown, new rider Denis O'Regan promised to win next time without his mount coming off the bridle. If they encounter another freakishly well-run race, they just might.
The strongly-backed mare Echoes In Rain set things up to fall apart late by tearing off into a long lead and refusing to settle, but even though those who came to be her closest pursuers – Fire Attack (also far too keen) and Gua Du Large (backed, too) – were restrained well behind her, they were legless in the straight and the former took an exhausted fall at the last.
Runner-up Ganapathi, stablemate of the leader and a drifter in the market, was explicitly waited with until after the second last and only took the lead in front of the final obstacle, yet he came away from it with legs of lead and was vulnerable to O'Regan's sweeping last-to-first challenge on the approach to the line.
Favourite Magic Tricks was relatively well positioned – not to the extent of the winner – but proved lifeless in the straight. The quite well-backed Power Of Pause, trained like Ganapathi and Echoes In Rain by Willie Mullins, came through from a similar position but could only work his way into third. Both of his stablemates, particularly the mare, are worth marking up.
The winner drifted from 9-1 to 22-1 before the off, having been half that opening show the day before, and was running just five days after being withdrawn from Fairyhouse with a stone bruise. Afterwards, McNally proffered several reasons why the horse drifted.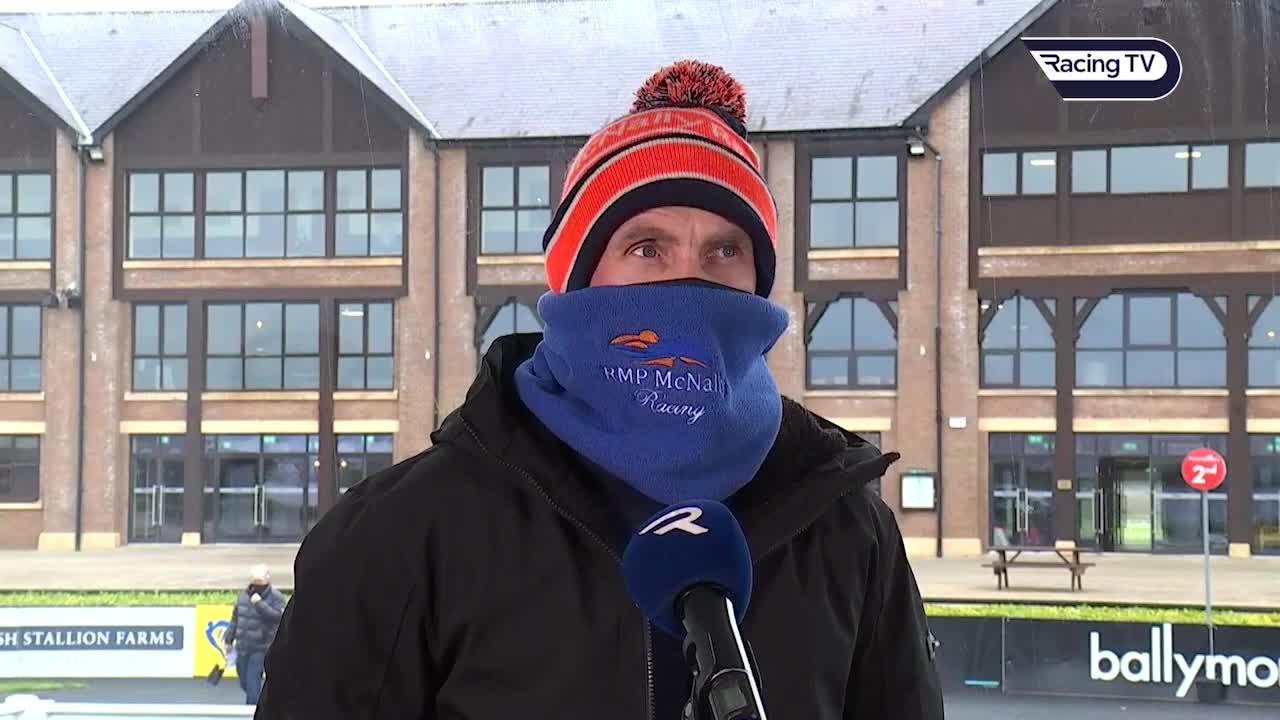 See exactly what McNally had to say after Dreal Deal's success at Punchestown
"We did fancy him, but the preparation wasn't ideal," McNally said. "Just the last couple of weeks, they were all sick – well, not sick but they just weren't 100% over Christmas. We gave them a week off and then, with ten days of frost down at home, we sort of missed valuable work.
"We took him to the beach last Sunday and it was sort of half-frozen so we couldn't really do anything. He hasn't even really galloped to be honest, so we were just coming here hopeful. He hasn't really been eating as well as he could the last two weeks and his coat isn't great..."
O'Regan reportedly concurred with McNally that Dreal Deal, who's progressed rapidly from handicaps into the graded ranks, needed the run. Both are confident of an improved showing in future, which might be at Cheltenham unless the trainer can find "a wee race in between".
McNally has intentionally not entered the horse at the Dublin Racing Festival because he didn't want "a hard race" so near to Cheltenham, where he will choose between the Supreme, Ballymore and "a couple of handicaps". Something like the County would appear ideal, as the longer O'Regan holds onto this horse – surely flattered here – in that race, the better the outcome will surely be.
Two other Irish winners to mention from the past week are Frere Tuck, who won the race subsequent to the Moscow Flyer over the same course and distance, and Pure Genius, who galloped away with a Punchestown maiden by 52 lengths on Monday.
The former was well positioned in a contest that developed into a sprint from two out. Trainer Willie Mullins was pleased to report that he "did not gurgle at all until after he'd pulled up", unlike when beaten at Navan last month after which Paul Townend reported that he'd "choked down the back". An operation to ameliorate his breathing is clearly in order for this future chaser.
Pure Genius is a second-season novice hurdler and was getting off the mark at the sixth time of asking for Ted Walsh, who's been able to dispense with a hood this term. It doesn't sound as though the trainer was tempted to break with habit by overfacing this horse any time soon.
"This was the first time he ran to anything close to what I thought he was," Walsh said. "He might just want three miles and heavy ground. He's a big raw horse and he might make a chaser next year."
Back in Britain, Adrimel took another step forward in first-time cheekpieces and upped in trip when winning the Grade Two Leamington Novices' Hurdle at Warwick last Saturday, conceding weight to all rivals. He controlled the race from the front under Richard Johnson, who wound the pace up on entering the straight and, in the consequent sprint, bossed track position sufficiently to repel the less well-placed Mint Condition, who would have been more accustomed to the usual tempo of handicaps than this tactical affair.
Trainer Tom Lacey admitted afterwards that Adrimel was not a horse who shines at home, but rather saves his best for the racecourse. He felt that cheekpieces had enabled him to jump more slickly than had sometimes been the case previously. He's considering either the Ballymore or, on spring ground, going up in trip for the Albert Bartlett.
I remain a huge fan of Make Me A Believer, who wouldn't have been suited by the way this race developed and yet still had enough quality to finish third. I'm hoping trainer David Pipe sidesteps Cheltenham with this horse, his eyes instead on the prize of this horse's nascent chasing career. Aintree's Sefton Hurdle en route would be an agreeable compromise.
THE JUVENILE HURDLERS
I'm not certain that Youmdor would have definitely beaten Teahupoo had he actually taken off when challenging for the lead at Fairyhouse's last flight on Saturday. The fall counted his jockey Paul Townend out of the remainder of the weekend, while the victory means that Gordon Elliott has yet another useful juvenile in his yard.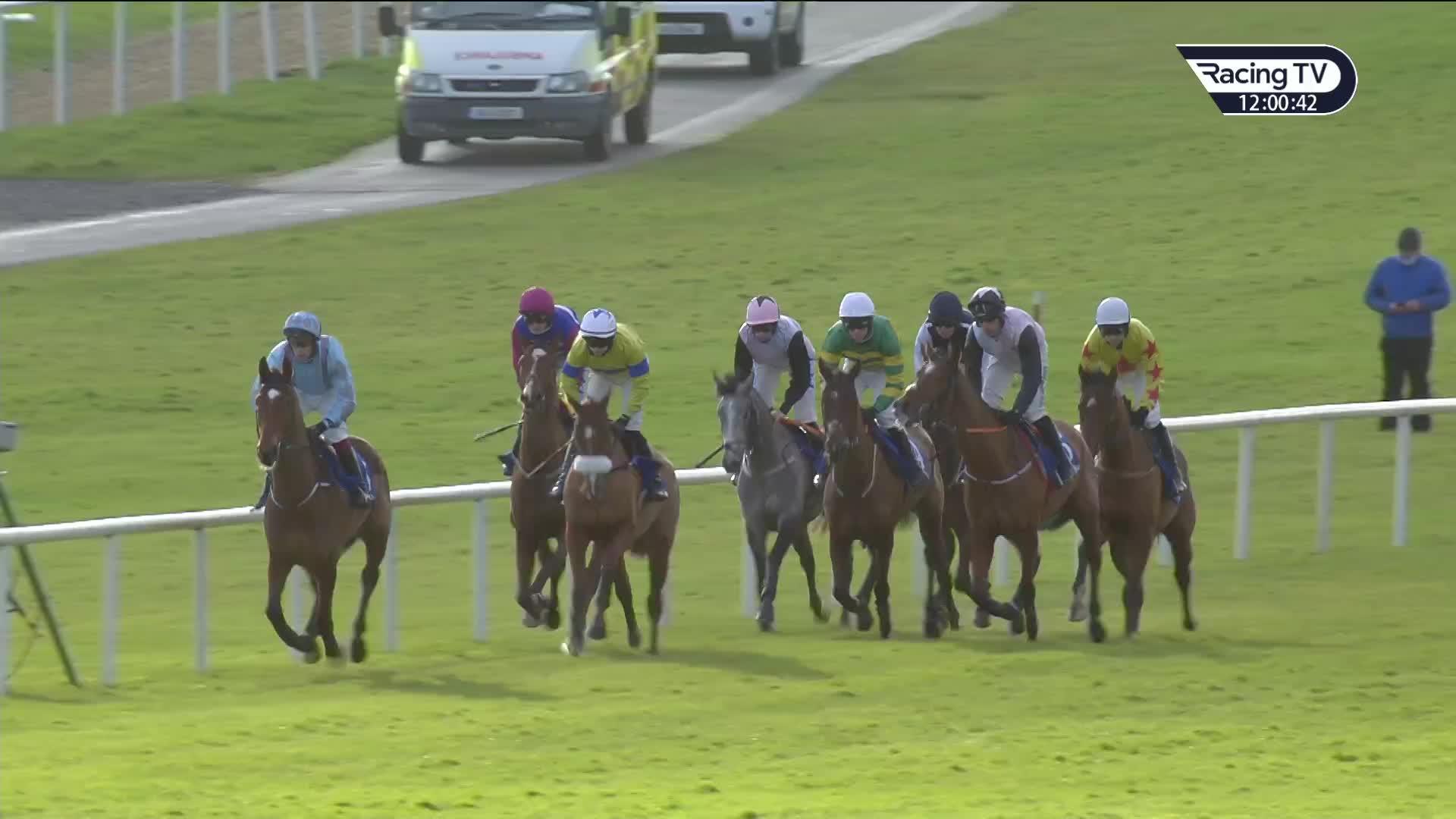 Youmdor makes ground quickly, only to come down at the final flight
The trainer thought his winner – sourced from France and making his Irish debut – was fortunate, but rider Robbie Power wasn't so sure. "He said he could see about three strides from the last that Townend's horse was just starting to be squeezed along," Elliott reported.
"I thought Willie's horse would have won and we had luck on our side. He's probably more of a stayer next year than a two-miler. I loved the way he put his head out and galloped from the last to the line."
Youmdor certainly made his challenge readily but he failed to breeze past Teahupoo, who was clearly finding plenty for pressure as they approached the last side by side. At worst, it would have been close and the fall hardly came out of the blue, as it followed a round of fairly scrappy jumping from the 4/9 favourite.
Back in fifth, Josh D'id wasn't well positioned when the race developed into a sprint and looked inexperienced on his first start for Gavin Cromwell, his second overall. This French recruit was also inconvenienced by the fall of Youmdor and shaped as if he would grow to be better than the bare form.
Selections:
Advised 02/12/20: Zanahiyr at 5/1 (general) for the JCB Triumph Hurdle
Advised 31/12/20: Sire Du Berlais at 10/1 (general) for the Paddy Power Stayers' Hurdle
Advised 13/01/21: Fakiera at 20/1 NRNB with Paddy Power for the Albert Bartlett Novices' Hurdle
Back now: Darver Star each-way at 25/1 NRNB with Paddy Power for the sportinglife.com Arkle
Back now: Pencilfulloflead each-way at 16/1 NRNB with Paddy Power for the Festival Novices' Chase